Katherine Bradford wrote a text about Bradford and Olises long friendship, which started out at Skowhegan Artist Residency in 2009 for the book, Disobedient Muses, Forlaget AFTRYK, 2021.
Katherine Bradford (b.1942, NY)
Brooklyn, August, 2021.
In the summer of 2009 I met Mie Olise Kjaergaard for the first time when she was a participant at Skowhegan in Maine where I was a resident faculty. Mie had traveled from Denmark and was one of about two dozen international artists who came to join the other young Americans in a country setting for a summer of conversation, studio practice and art filled events that lasted a full nine weeks.
Mie struck me right off as an impressive painter.  She requested a large studio space and for good reason.  That summer she was in the midst of doing a series of what she now calls "masculine sized paintings."  The paintings were of wooden boats perched high up on scaffoldings as if in a boat yard.  I learned that she had grown up on an island off Denmark and that her father ran a large boat yard. All the paintings were from memory and included muscular brush work with confident wide strokes of paint and a fair number of drips adding to the structure of each boat.  When you walked into her studio space these tall vertical paintings towered over you. Perhaps you would see Mie on a ladder completing the top most strokes of color in the sky.  I was quite intrigued as I was doing paintings of boats myself, also from memory, and more than once I wished I'd grown up looking at dry docked boats as Mie had.
Then in May of 2017 Mie invited me and two other artists from New York to travel to Copenhagen and participate in a four artist show at her gallery. The other two artists, Todd Bienvenu and Jason Stopa, were painters who shared our love of painting loosely with strong colors.  We titled the show "Witches and Dudes" as a way to describe the two-woman, two-male make up of our show.  It's interesting to think that at the time Mie was doing lush green landscapes and hadn't yet turned her thoughts to the powerful symbol and image of a modern day witch.
I am now seeing in Mie's work a bold embrace of painting people.  Her work when I first knew her was oriented towards objects and landscapes and, as she put it "no characters allowed."  Her personal life – a fiercely strong artist-mother with a young son burst open before her as the needed inspiration for future paintings.
As Mie now invites a fantastic array of "characters" into her work she chooses persons associated with female empowerment: witches, suffragists, athletes, and members of an all-female band.  We see their faces staring straight ahead as if to engage with us, the viewer.  They seem to be saying "Don't mess with me."
Her groups of women are united not only by intent but also visually: dressed alike and sharing similar hats and sashes they stand triumphant before us.  (I'm not surprised to see these women wearing hats; Mie is a person who is not often without some kind of hat.)
The group of paintings with a single figure riding an animal and taking off into the sky seems like an especially poignant image because I feel at this moment in her life Mie has "taken off."  There she is holding the reins of a monstrously big creature like a rhinoceros or stallion and she is the one steering the beast straight ahead.  These images tell me that it is possible to take life into your own hands and to go someplace perhaps unknown and perhaps a little scary.
I am also especially charmed by the paintings of "shoes for departure." Who else would think up this idea but an artist with deep resources of both invention and purpose.  These small paintings are perhaps her most simple compositions painted quickly with spare strokes of color. On the other hand, when I look at them I feel once again Mie has climbed to the top of tall ladder in order to make them, in order to make them real enough
to believe in.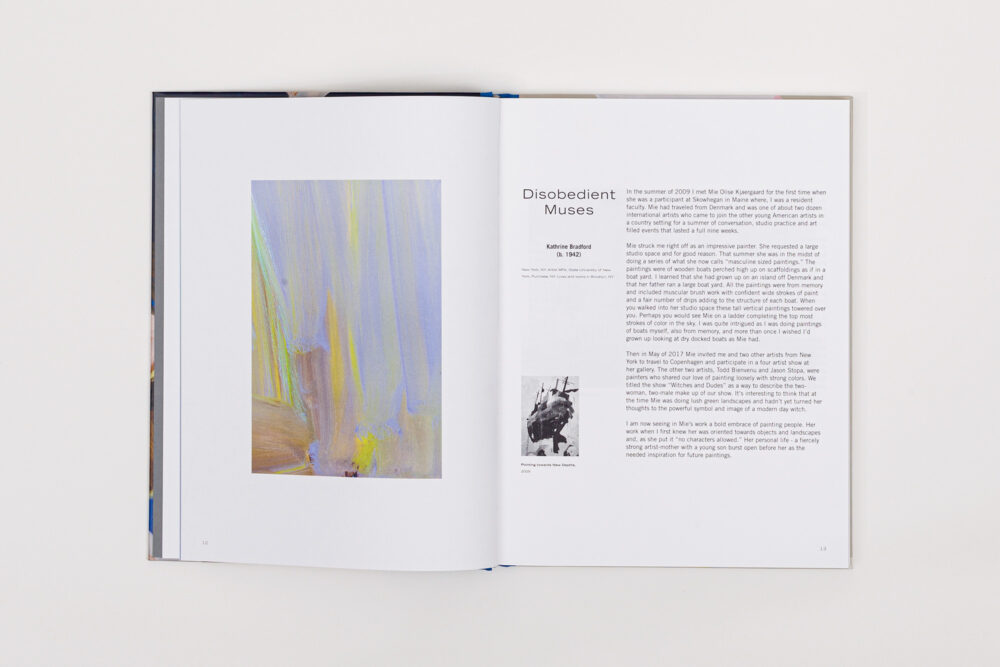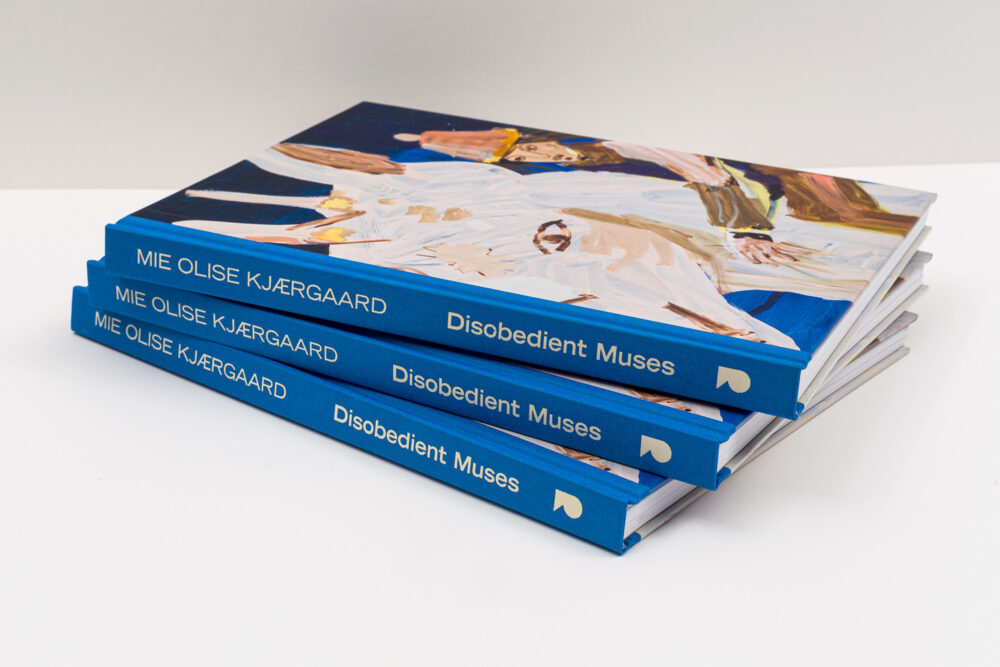 Publish house: Forlaget AFTRYK, 2021.
Title: Disobedient Muses
Author: Mie Olise Kjærgaard
Text: Katherine Bradford
Book design by Nicolai Bejder Studio
Hardcover halfbind
24,5 x 32,5 cm
164 pages
1st edition
ISBN: 9788797278116